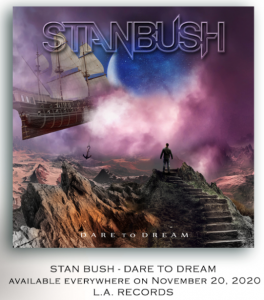 One continent where Stan's catalog is as popular as ever is Europe, and rock sites have been reviewing "Dare To Dream" and offering high praise!
If you've not yet added "Dare To Dream" to your collection, click here now and grab it from our store!
Melodic Rock's review of the new album is written in Italian, you can check it out by clicking here!
Germany's Rock n' Growl site has a new review up, in English. Check out what they had to say about Stan's latest by clicking here.
viriAOR offered up a bilingual review of the album, awarding it a score of 90/100, which you can check out by clicking here!
And though Dangerdog isn't based in Europe (they're here in the USA!) we want to shout the awesome review they did, awarding "Dare To Dream" a perfect 5 stars! Read that review by clicking here.
Check out "The 80's" – one of the 11 new tracks on Dare To Dream – the official music video is right here: