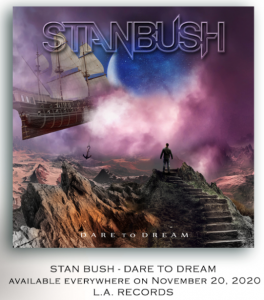 Today through November 20, 2020 we've got a special offer for all Stan fans. Pre-order the new album Dare To Dream on CD from our site, and yours will come autographed by Stan Bush himself!
Click here to head to our Store right now, and grab Dare To Dream before anyone else.
Not only will the new album hit iTunes, Apple Music, Google Play and other digital outlets on November 20th, but so too will the new single "Born To Fight"…and we may even have a surprise up our sleeves as well!
To get you hyped, check out "The 80's" – one of the 11 new tracks on Dare To Dream – and the official music video, here: