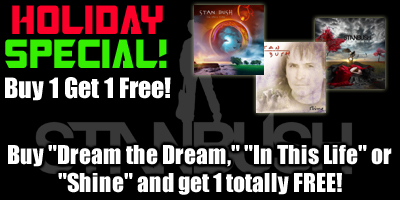 For a limited time only – we've got a great deal for loyal Stan Bush fans! Pick up any one of Stan's 3 latest CD's: "Shine," "In This Life," and "Dream The Dream" from this site, and you can take one of them for free! It's your choice – buy 1 of these great albums and get 1 of them for FREE! Whether you're just completing your collection or giving the gift of Stan's music to others, this is a great way to get something extra for the holidays! Take advantage of this offer now – only valid while supplies last*!
Shop our store now: http://stanbush.com/store/
*Please indicate which free CD you'd like when placing your order. Just include this info in the comments section! Offer expires on January 1, 2012.